Warning signs – Q2 ERA/IRN RentalTracker results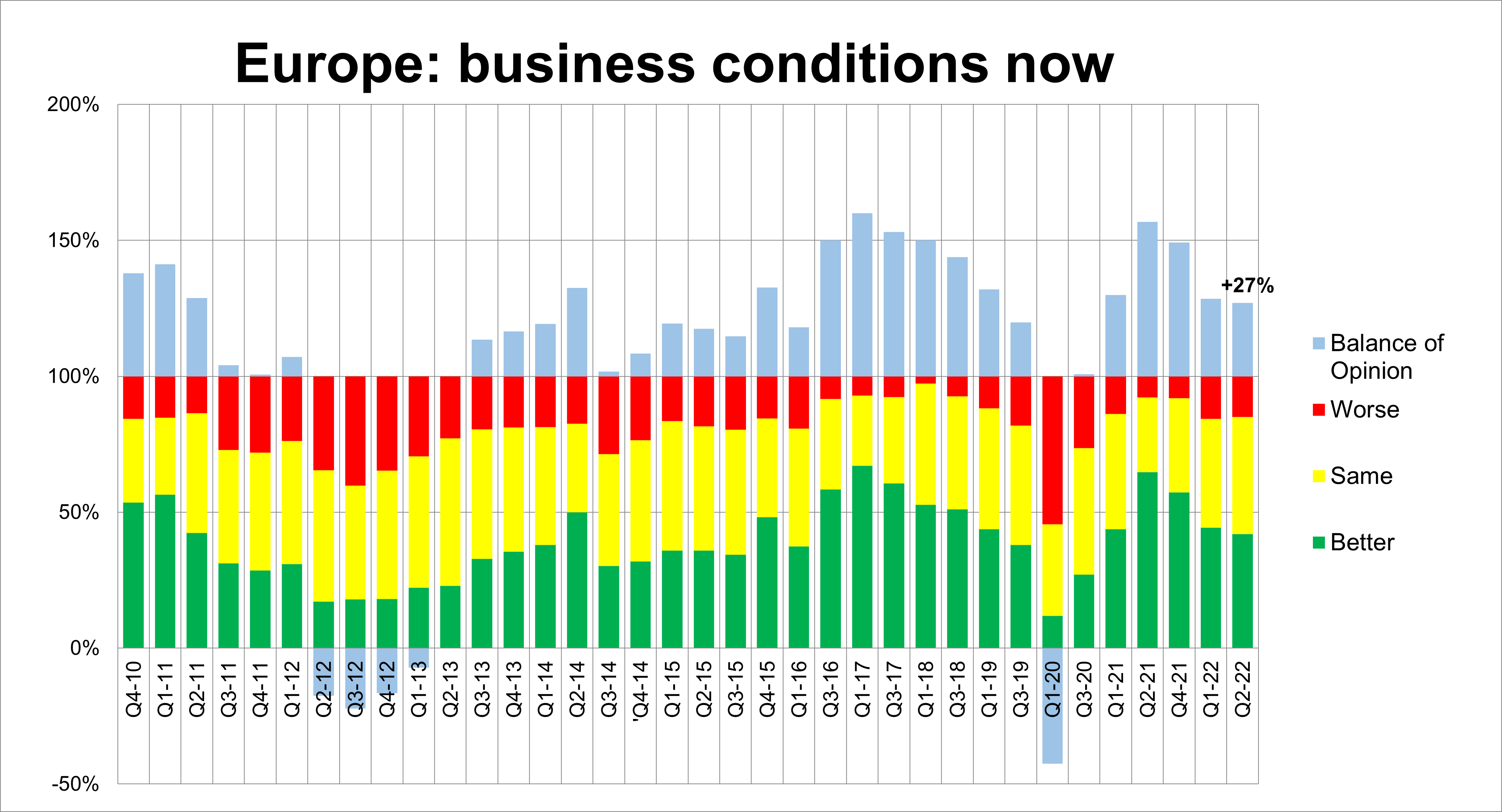 The ERA/IRN RentalTracker for the second quarter of 2022 paints a relatively positive picture, although there are signs of uncertainty creeping in. IRN's Murray Pollok reports.
Viewed in a vacuum, with no reference to previous results, the Q2 RentalTracker survey points to a European rental industry in pretty good health.
Very few respondents were reporting deteriorating business conditions, plans for investment remain positive, and time utilisation seems to be stable or increasing.
(More than 100 respondents completed the survey (a big increase on Q1), which is jointly run by International Rental News (IRN) and the European Rental Association (ERA).)
However, the toxic combination of war in Ukraine, inflationary pressures and the likelihood of lower GDP growth worldwide, is clearly having an impact on business sentiment among Europe's rental companies.
The shift downwards in confidence was evident in the first quarter survey – that survey was conducted just days after the Russian invasion of Ukraine – and is confirmed in the Q2 survey.
For example, the +27% positive balance of opinion on current business conditions (the difference between the 42% who reported improving conditions and the 15% reporting a worsening) is slightly worse than Q1 but significantly lower than the results in the second half of 2021 when economies were bouncing back.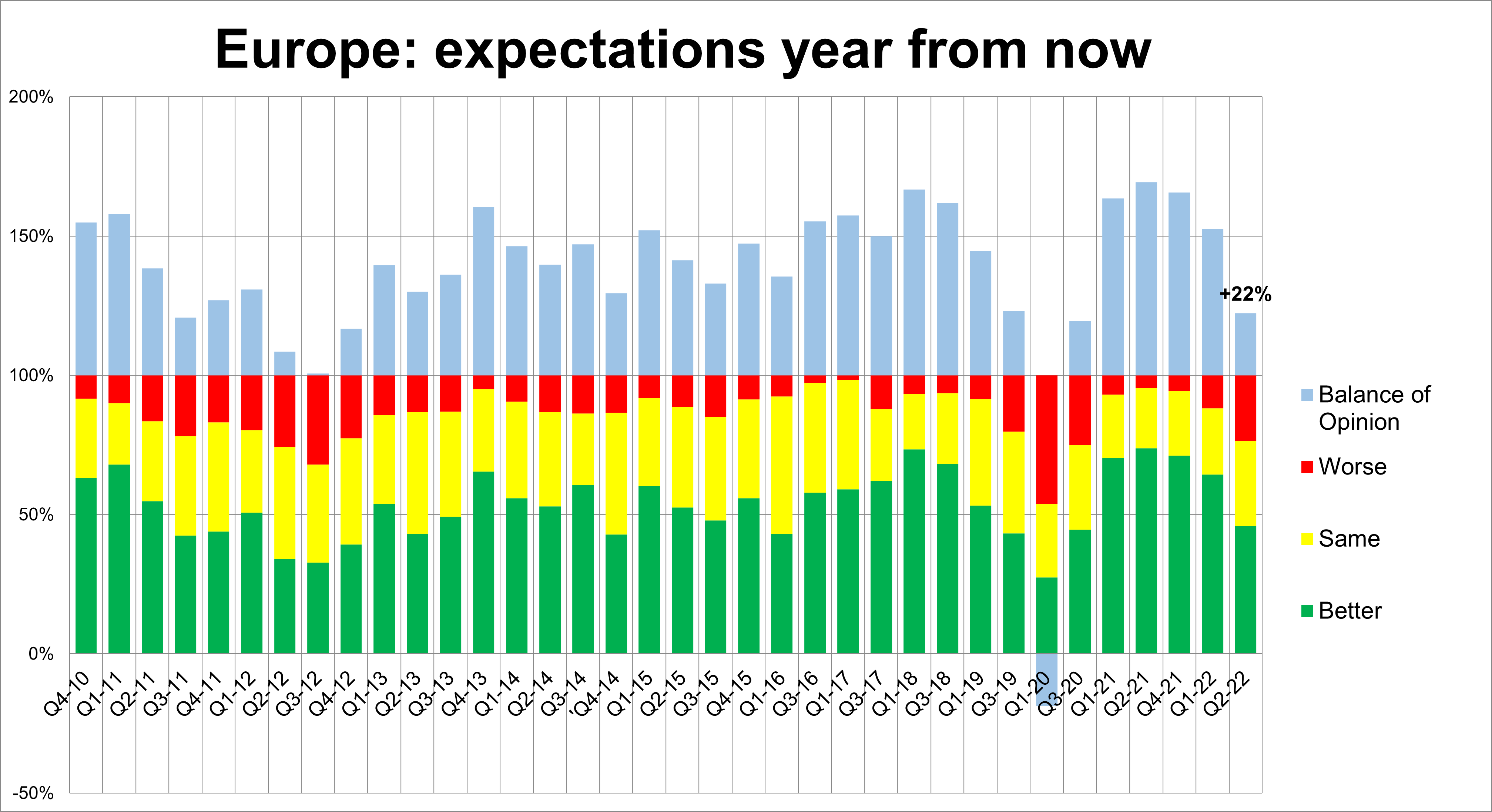 Rental CapEx plans
The same is true – to a lesser extent – in investment plans, with little change in the +47% positive balance of opinion on capital expenditure this month from Q1, but 10 percentage points down on late 2021.
The shift downwards is more evident on investment plans for 2023, with a positive balance of opinion of +35% compared to nearly +40% in Q1 and significantly down on the +55% to +60% levels in the second half of 2021. Clearly, investment intentions remain positive, but less so than last year.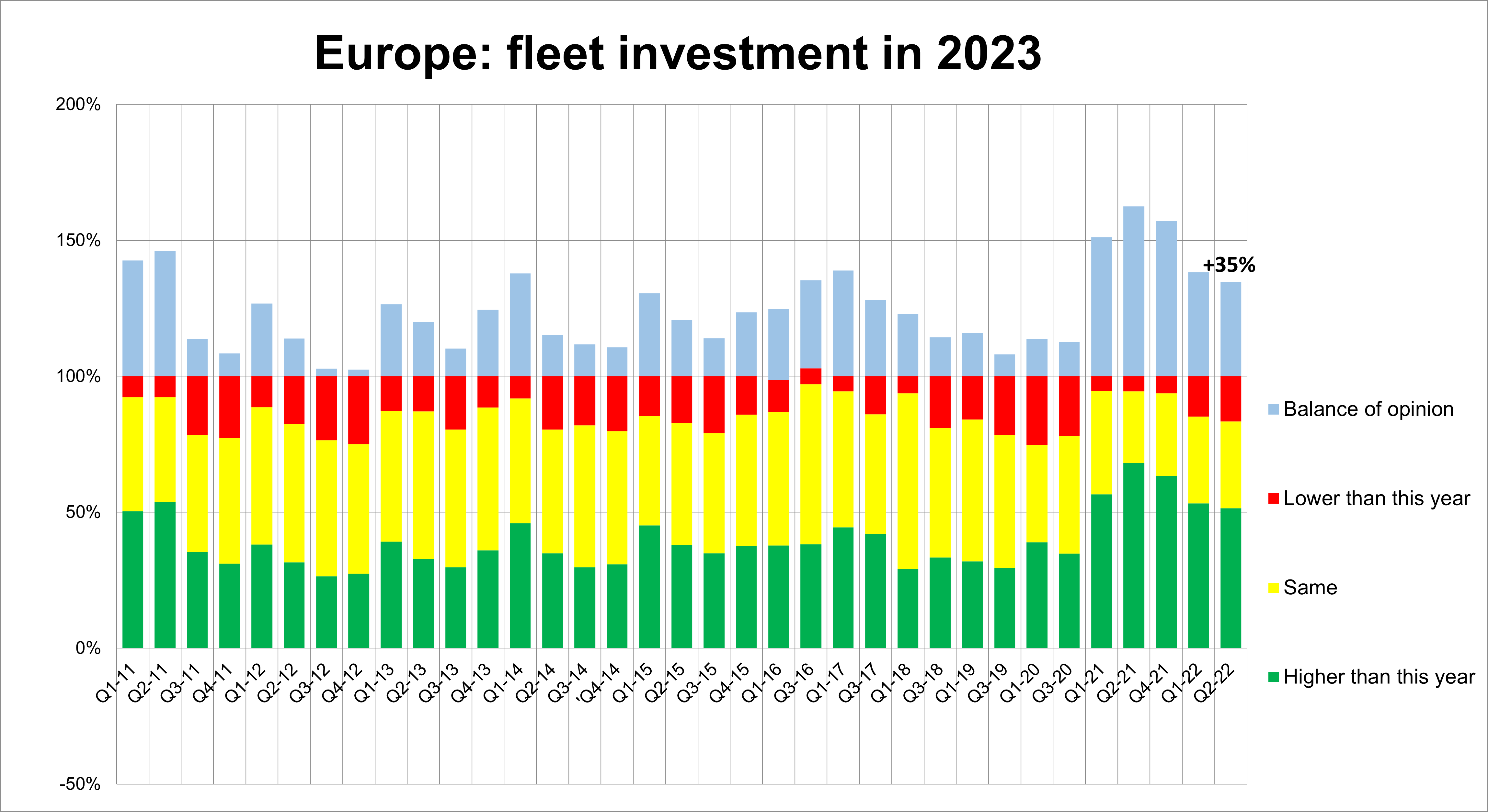 The unease about economic prospects also impacted on recruitment plans, although these also remain very positive. There remains a very healthy +53% balance of opinion on intentions to add staff in the third quarter of 2022 – a tiny number were expecting to cut staff next quarter – although that represents a small drop off from three months previously.
Where the uncertainty really makes itself felt, though, is on the question about prospects for business 12 months ahead. Here, sentiment has shifted down steeply, with a still positive balance of opinion on +22% down from the +50% reported in each of the three previous surveys.
There is now a slight majority of respondents who thinks business will be worse or the same a year from now. More people think business will be better next year than think it will be worse, but that proportion had dropped steadily over the three most recent RentalTrackers.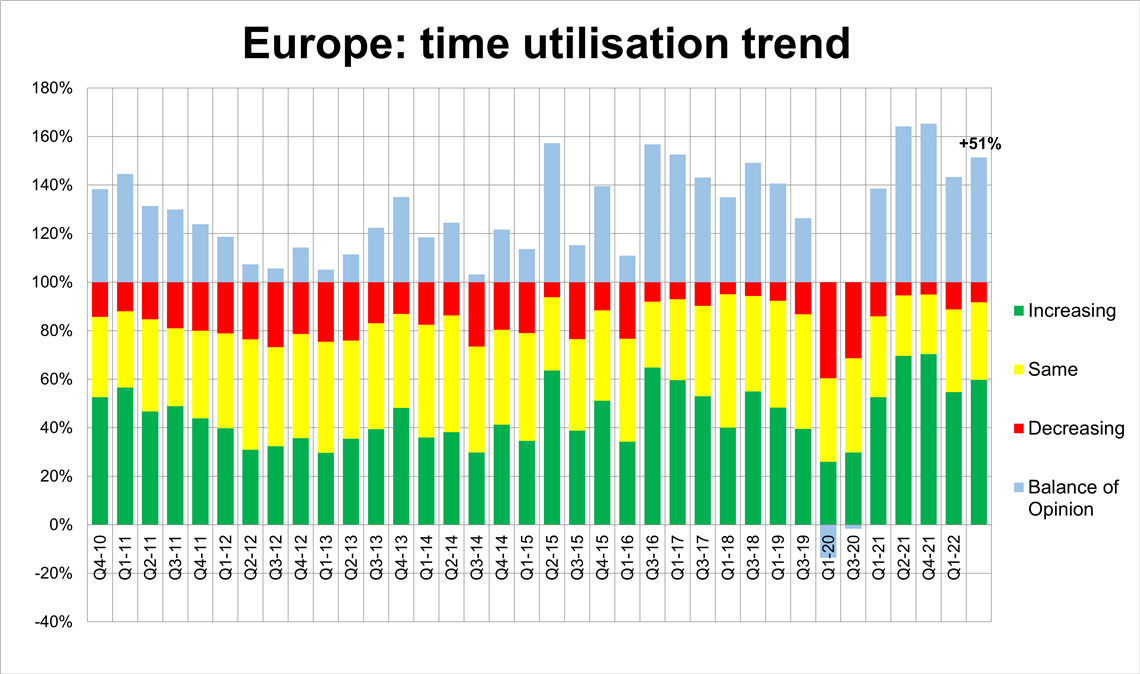 Utilisation growing
What is both interesting and positive about the results is that increased caution for the future co-exists with improving current business conditions. As already said, there is a still a healthy positive balance of opinion (+27%) on current business conditions, and alongside that the respondents were reporting improving fleet utilisation in the second quarter. The positive balance of opinion on utilisation rose to +51%, which is close to the historic highs of the pandemic recovery period and during the high growth years in 2016 and 2017.
The positive finding on utilisation may also reflect reasonable or good levels of demand coupled with a choke on the ability of rental companies to grow their fleets because of supply chain issues.
Regional trends
Although with a reasonable three-digit number of participants, the Q2 data does not allow for detailed analysis of certain markets, including France, Germany and Italy.
Where we do provide information – for the multinational companies, UK, Spain, the Benelux and the Nordic region – we caution that the sample sizes are low and should be considered anecdotal rather than scientific. We can have more confidence of the Europe-wide picture.
The Nordic region has been performing better over the past three years than many western European markets, which means that quarter on quarter comparisons are different form those countries where the pandemic had a dramatic impact on business. The Nordics have a very positive view of 2023, current business conditions, and investment levels this year.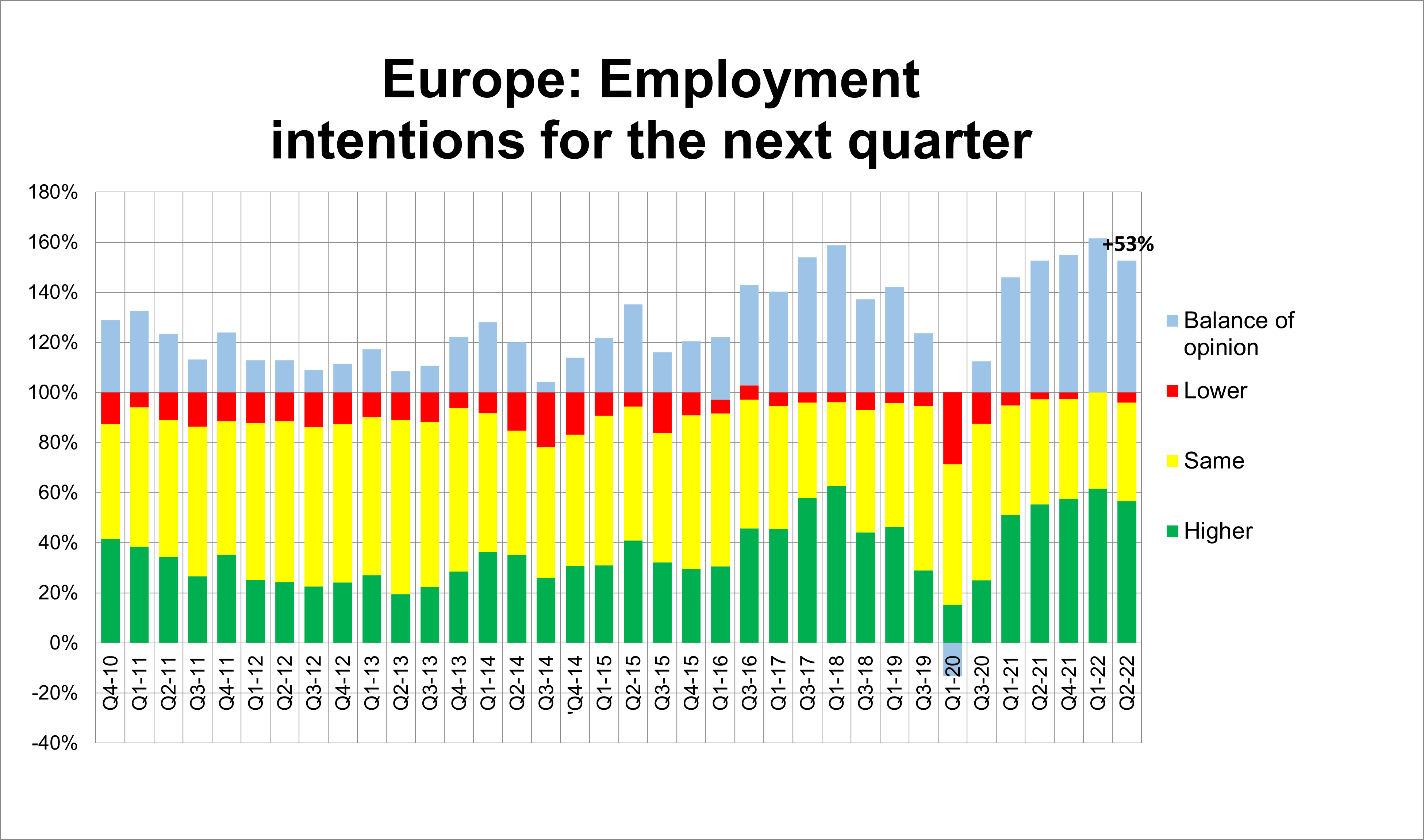 The UK also presents a positive picture, with good results on Q1 growth compared to 2021, improving utilisation and employment.
Multinationals are the least confident about business conditions 12 months from now and also the least likely to be experiencing Q2 growth in 2022 versus the previous year. They are also below the average in terms of investment planning this year and next.
So, there are warning signs, but it would be wrong to ignore the obvious optimism that still exists in Europe's rental sector. The region continues to recover from the pandemic, even if clouds are gathering for next year.